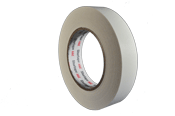 Sometimes, it can be hard to find console tape, leading to the use of inappropriate products for labeling, the worst of which is masking tape.
While you can always order it online, you might not be able to find it locally, at least if you call what you are looking for "console" tape.
Try looking for "artist tape" instead. It has the same paper and adhesive properties as console tape, but it is sold in art supply and stationary stores, and is intended for a very different use.
Artists use it for temporary layouts and to affix things like watercolor paper to backings temporarily to keep it from moving. Crafters and scrapbook makers like it because the adhesive is non-acidic and doesn't damage delicate papers.
You can find it a most major craft supply outlets.